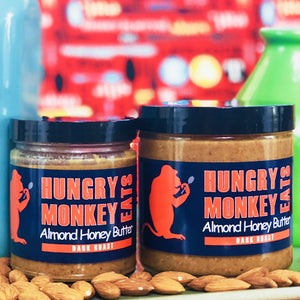 Hungry Monkey Eats
Almond Honey Butter
Regular price
$8.00
$0.00
Hungry Monkey Eats Almond Honey Butter is only available in a Dark Roast. The rich flavor of the roasted nuts is complimented by the sweetness of the wildflower honey. The two work in concert to create a one of a kind taste. As always a tiny touch of salt is added to further enhance the flavor of each ingredient. Not just for sandwiches! I recommend a generous application to pancakes and waffles!
Ingredients: Almonds, Honey and Salt. No additional oil added. 
Please note, Delivery will occur Monday and Tuesday, weekly. Orders must be placed by Friday to be eligible for delivery.